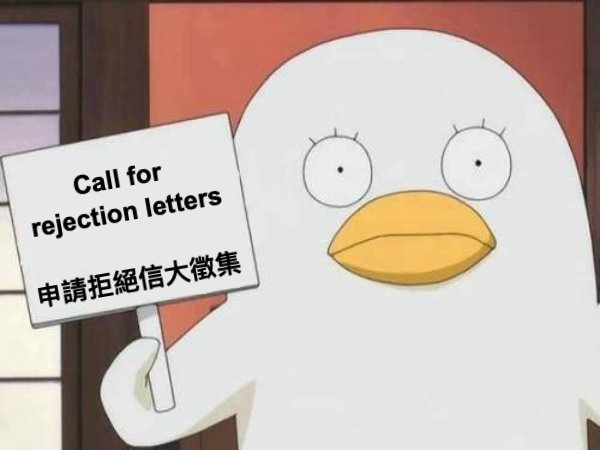 Have you ever wondered what you can do when you receive one rejection letter after the other? How about sharing them with us?
Submit your rejection letters to us! https://forms.gle/p8C9rsNAyTzTfzmQA
---
We're currently working on a new project, the zine publication "What do you say?" This project extends and complements our podcast, aiming to create something tangible, visual, interactive, creative, and fun.
In line with this, we've introduced the section titled 'Failure is the mother of more failures.' This section serves as a means to collect and publish rejection letters, providing an interactive and enjoyable way to collectively address the fundamental frustrations within the arts and cultural sector.
Whether it's a rejection letter from funding bodies, festivals, venues, events, residency exhibitions, or even from your peers and friends, we welcome all types. We're seeking impressive rejection letters – impressively bad, harsh, and cold, or impressively friendly, warm, and supportive. Of course, anything else special also fits the bill. Most rejection letters likely arrived as emails or in other text formats, but we're open to any format.
We respect your privacy and will anonymize submitted letters, although you're welcome to do so before sharing. With so much to share, we encourage you to select one. Keep in mind that there's a selection process, and not all submissions will appear in the final zine. But don't fret, as we'll inform you with a 'rejection letter' for your rejection letter.
For submissions, send your rejection letters to [email protected] with the subject "Failure is the mother of more failures", OR submit your copy to this form: https://forms.gle/p8C9rsNAyTzTfzmQA We're eagerly looking forward to your contribution.
SUBMISSION DEADLINE: 10 SEP 2023
小誌:你說呢? 我們最近正在工作一個小小的出版品<你說呢?>並在裡面設計了一個單元'失敗為慘敗之母'。來分享在藝術文化領域工作時,普遍讓人沮喪的時刻——收到申請拒絕通知的時候。
我們想邀請大家來分享自己的申請拒絕信,可以來自補助、藝術節、藝術機構、場地、駐村、展覽、甚至是你的朋友或者工作夥伴。我們希望分享一些特別的申請拒絕信,例如特別糟糕,無語,傻眼的;特別友善,溫暖,支持的;又或者其他的原因讓你覺得特別。
我們預期大部分的申請拒絕都是以email或是文字的形式呈現,但如果你有其他形式的申請拒絕也歡迎跟我們分享。我們會在保留大部分內容的情況下做匿名化處理,你也可以先處理好了再分享給我們。
大家可能都有很多拒絕信想要分享,所以我們鼓勵大家從裡面選一個出來寄給我們就好。因為出版篇幅的關係,我們會酌情選擇刊登。沒被刊登出來的朋友也別灰心,我們會寄一封拒絕信來感謝你分享給我們的申請拒絕信。
把你的申請拒絕信寄以失敗為慘敗之母做標題,寄到[email protected]。或受填寫此表單:https://forms.gle/p8C9rsNAyTzTfzmQA
截稿日期:2023年9月10日